Kenwood KCA-HX7C - Motorcycle Bluetooth Camera & Communication System
Original price
$ 399.00
-
Original price
$ 399.00
Kenwood KCA-HX7C - Motorcycle Bluetooth Camera & Communication System
The Kenwood KCA-HX7C motorcycle headset kit is designed to provide clear, hands-free, helmet-to-helmet communication with other riders, along with 4K movie recording. Key features include: Bluetooth Intercom, that lets up to 4 riders communicate with up to 1 mile of range (line-of-sight); Built-in wireless LAN for transferring photos & videos, Advanced Noise Control, and Audio Multitasking. The motorcycle headset kit can be mounted to most motorcycle helmets and includes 2 types of microphones and a set of helmet-installed speakers. The KCA-HX7C is water-resistant for use in all weather conditions.
Product Highlights:
Motorcycle camera and Bluetooth communication system
Headset, universal helmet clamp, microphones, and accessories
Built-in rechargeable battery with up to 20 hours of life in talk mode
4k camera
Selectable resolutions: 2160p/30fps, 1440p/30fps, 1080p/60fps, 1080p/30fps
125° field of view
f/2.4 aperture
30-degree rotation
12-megapixel camera (8.3MP in video mode)
Time-lapse and loop video modes; single-shot and burst photo modes
Bluetooth intercom
Communication between up to 4 riders with 2-way, 3-way, and multi-way conference calls
Coverage: up to 1 mile in open terrain
Wireless lan
Edit, share, and upload videos and photos when connected to your Wi-Fi enabled device
Default 5GHz operation (switchable to 2.4GHz)
Range: up to 50 ft.
Bluetooth music sharing
FM radio reception with 10 station presets
Advanced Noise Control noise cancellation
Audio Multitasking layers different audio sources
GPS navigation prompts
Dimensions: 3-3/4"W x 3-1/4"H x 2-9/16"D
Warranty: 1 year
Our 30-day money back guarantee
MFR #  KCA-HX7C
What's In The Box:
Headset main unit
Gear-clamp helmet mount
7" Wired boom-mic w/attached 4" cord terminated in a 2-pin connector
2 Helmet speakers w/attached 8" cord on one / 20" cord on other & 9" mic cord (2-pin connector)
Wired mic w/attached 8.5" cable terminated in a 2-pin connector
4' USB Cable (type-A on one end / right-angle micro-B on other end)
Surface-mounting adapter (attached 3M adhesive)
2 Foam speaker covers
2 Foam windscreens
2 Large speaker pads
2 Small speaker pads
4 Hook-and-loop fastener patches for speakers
Boom mic holder
Hook-and-loop fastener patch for boom mic holder
2 Hook-and-loop fastener patches for speaker pads
2.5mm Allen key
5 Quickstart guides (Eng/Span/Fren/Others)
Certification & Safety Approvals
Safey Precautions
4k Video Camera
The KCA-HX7C includes a built-in 4K camera for recording video or pictures of the road ahead. The camera features an f/2.4 aperture with a wide 125˚ field of view. The lens can be rotated up to 30˚, using a small lever on the front of the camera, letting you quickly get a level field of view once the camera has been secured to your helmet. Video is recorded in MP4 (H.264) format with a selectable resolution that includes - 2160p/30fps (default), 1440p/30fps, 1080p/60fps, and 1080p/30fps. Single photos are at 8.3/12MP with a 4:3 aspect ratio. Both can be easily be activated while riding, a 1 second press of the Camera button will start video recording and a single tap of the Camera button will take a snapshot.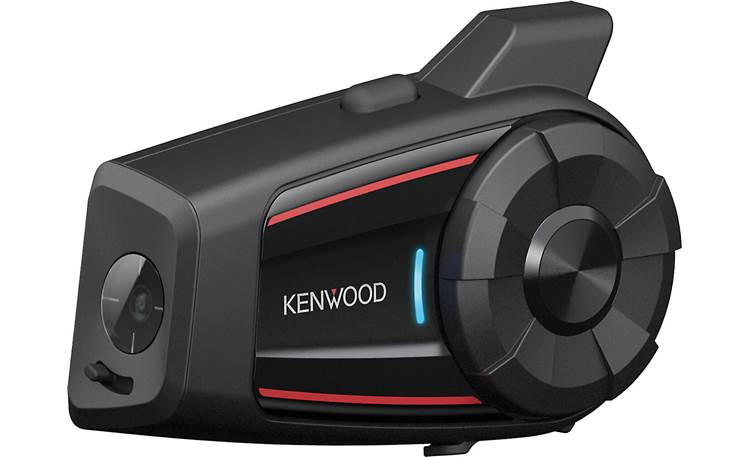 Bluetooth Intercom
The Bluetooth Intercom feature lets you communicate with up to 3 other KCA-HX7C headset users (4 total) by simply pairing the headsets together. Bluetooth Intercom features an operating range of up to 1 mile in open terrain.