JBL Pro CSMA280 Commercial Series Two-Channel 80-Watt Powered Audio Mixer/Amplifier
Sold out
Original price
$ 765.00
-
Original price
$ 765.00
JBL Pro CSMA280 Commercial Series Two-Channel 80-Watt Powered Audio Mixer/Amplifier
The JBL CSMA 280 is a two-channel commercial mixer-amplifier with eight input channels. The CSMA series mixer-amps are designed and built for commercial sound applications, such as restaurants and coffee shops, or educational applications. The CSMA 280 is rack-mountable in a 1U rack space, and includes a rack-mount kit.
Product Highlights:
Amplified mixer for commercial audio distribution features 8 input channels and 2 output channels of 80 watts each
Supports 70-volt and 100-volt distributed audio systems without the need for a separate transformer
Stable from 4-16 ohms
Uses Crown's high-efficiency DriveCore™ technology to provide excellent audio performance
Independent bass and treble controls for each output channel
Dip switches for input routing, phantom power, and 70/100V operation
Illuminated rings around buttons and dials for easy operation in darkened environments
Fanless, space-saving single rack space (1U) design
Rack mounting kit included
Energy Star® certified
Product weight: 11.9 lbs.
Dimensions: 17-3/16"W x 1-3/4"H x 14-1/2"D
Warranty: 3 Years
Our 30-day money back guarantee
MFR # CSMA280
What's In The Box:
CSMA 280 mixer/amplifier
3' AC power cord (3-prong plug/IEC 3-prong)
4 Self-adhesive rubber feet
2 Front angle brackets
2 Rear flat brackets
2 Rear angle brackets
Eight 3-conductor Euro-block connectors
Four 5-conductor Euro-block connectors
10 M4 x 20mm Phillips-head rack-mounting screws (each with a flat washer)
Three 3/16" screws
3 Flat washers
3 Split lock washers
12 M3 x 5mm flat-head screws
Operation Manual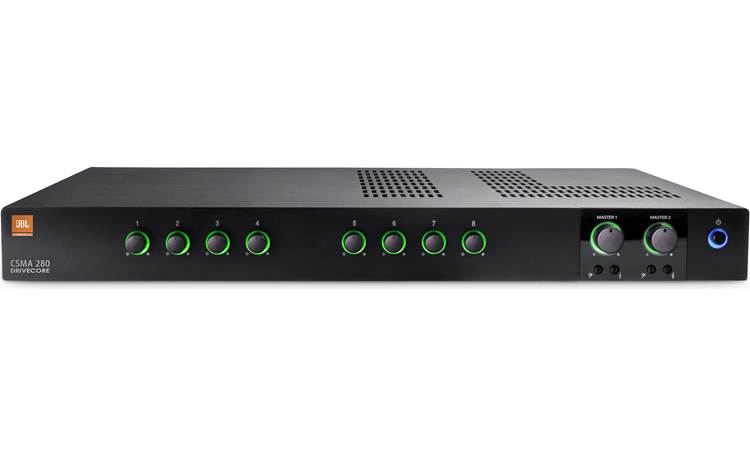 Input Configuration 
The CSMA 280 has 8 inputs which will accept 3-pin or 5-pin Euro-block mic/line connectors. These are designed for pre-built or professionally-wired balanced line 22-24 gauge cables. Six of the inputs also have RCA mono sum connectors for connecting audio devices, such as CD/DVD players. The remaining two inputs (Ch1 and Ch5) are capable of being used for Voice-activated Ducking (VOX function) and Priority Muting, and utilize the supplied 5-pin Euro-block connectors. Each of the 8 inputs has a Line/Mic switch for selecting the input gain, according to the source used.
Output Configuration
The CSMA 280 has two powered outputs that are designed for low impedance or constant-voltage systems. These outputs will accept 5-pin Euro-block connectors. Pre-built or professionally-wired, high-quality two-conductor, heavy gauge speaker wire is recommended. At distances of up to 25 feet, 16-gauge wire is recommended. From 26-40 feet, you should use 14-gauge speaker wire. To drive distributed speaker systems designed to operate at 70V or 100V, the 5-pin Euro-block connectors have designated terminals for 70V, 100V and Common. For 8-ohm speakers, the + and - terminals should be used.
DriveCore Technology
The JBL CSMA series utilizes DriveCore technology developed by Crown, another Harman brand. DriveCore technology integrates the amplifier drive stage into the power output stage, and fuses everything into a chip the size of a dime. This significantly reduces the size and weight of the mixer-amps into a 1U rack space.