JBL Pro CSM14 - Commercial Series 4-Input, 1-Output Audio Mixer
Original price
$ 369.00
-
Original price
$ 369.00
JBL Professional CSM14 - Commercial Series 4-Input, 1-Output Audio Mixer
The JBL CSM 14 is a 4 channel mixer capable of a wide range of applications, such as background music, security, and paging for commercial installations ranging from schools and hospitals to restaurants and fitness centers. It features 4 input channels and a single output for passing the signal to an amplifier (sold separately).
Product Highlights:
4-Input, 1-output commercial mixer
Four individual input level control knobs
Single master output volume control
Independent bass and treble tone controls
"Vox" adjustment sets input threshold for voice-activated ducking during announcements
Frequency response: 20-20,000 Hz
Switchable 70Hz high-pass filter for eliminating low-frequency microphone rumble
Switchable 27V phantom power for microphones
Rack mounting kit included
Product Weight: 4.3 lb 
Dimensions: 8-5/8"W x 1-3/4"H x 11-15/16"D
Warranty: 3 Years
Our 30-day money back guarantee
MFR# CSM14
What's In The Box:
4-Channel commercial mixer
9.5" Long angle-bracket
5" Flat-bracket
2 Rack-ears
35" Power cord (IEC 3-pin)
Four 3-pin Euroblock connectors
One 5-pin Euroblock connector
Five 20mm screws w/ flat-washers
Eight 8mm screws w/ lock- and flat-washers
Eight 6mm screws
4 Rubber stick-on feet
Operation manual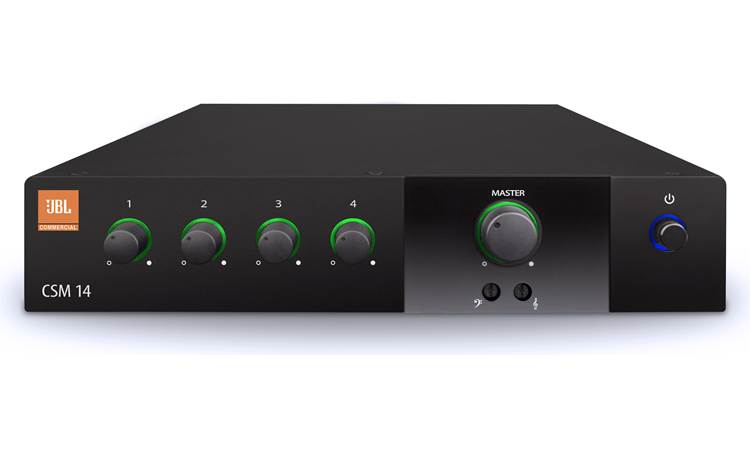 Inputs
Each of the 4 input channels is comprised of a Euroblock connector, that can accept either Line or Mic level signals, along with a pair of RCA jacks for running consumer-level audio signals, such as a CD or media player. Input 1's Euroblock connector includes connections for a paging microphone along with an audio source. Each input includes a 2-way switch for selecting the signal type with selections for either Mic or Line.
Output
A single 3-pin Euroblock connector provides a Line Level output signal, up to 5.0Vrms, for running to an outboard amplifier or mixer/amplifier.
VOX Function
Voice-activated ducking, or the VOX function, is available on input channel 1. This function causes attenuation of the overall output level of the amplifier when the input level on channel 1 reaches a set threshold. A designated VOX trim pot is provided for setting the audio input level required to activate ducking. A typical usage of the VOX function is to automatically lower the background music in the room while making announcements over the audio system. After the announcement is made, the background music returns to its previously set level.
Mounting 
The CSM 14 can be used in a table - or shelf-mount orientation with 4 rubber stick-on feet provided. Rack-mounting hardware is provided for either mounting a single unit or for mounting 2 units side-by-side in a standard 19" rack.