Focal Arche DAC and Headphone Amplifier
Focal Arche DAC and Headphone Amplifier
Arche is a unique audiophile solution. It combines a digital-analog converter with two pure class A amplification modes (voltage, hybrid), designed especially for headphones. Arche also offers presets for every set of Focal headphones to make sure you get the absolute best from this ultimate combination. Its dual mono ultra-high performance construction makes it possible to separate management of the left and right channels, from the powering stage. The two balanced digital-analog converters can process formats in PCM format up to 384kHz, as well as DSD 264. The analog signal is then routed towards 2 pure class A amplification channels for an uncompromising solution. The original audio signal is thereby totally respected, so as to reproduce the tiniest details of the recording.
Features
- Metal housing protects against signal interference and vibration
- Built-in class A headphone amplifier
- Customized presets for each of Focal's high-end headphones: get the best from Focal's combination of electronics and acoustics.
- Compatible with headphones from all brands
- Preamp mode with balanced XLR and unbalanced RCA outputs for connection to an outboard power amp or self-amplified speakers
- Balanced circuitry throughout reduces noise and distortion for maximum sound quality
- Digital-analog converter compatible with high-resolution formats (384kHz - DSD 264).
- 2 integrated amplifiers (voltage and hybrid): choose the amplifier type best suited to your headphones.
- Dual mono audiophile construction from input of the digital signal to output of the self-powered signal.
- Can also be used as a digital-analog converter for high-fidelity home systems.
- Selectable amplification modes

"voltage" mode uses a pure current amplifier that enhances dynamics

"hybrid" mode increases impedance and slightly emphasizes bass

- Includes detachable solid aluminum headphone stand
- Detachable AC power cord
- THD: less than 0.001%
- Frequency response: 10 to 100,000 Hz
- 7-15/16"W x 2"H x 12-5/8"D
- Weight: 10.25 lbs.
- Warranty: 2 years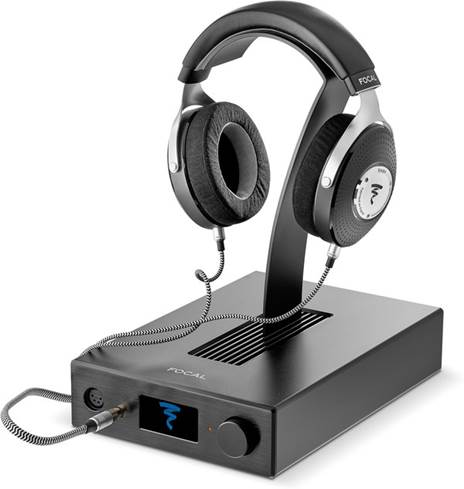 Dual-mono design maximizes stereo separation
All DACs are only as good as their, well, DAC chip. Focal chose one of the best out there for the Arche: the high-grade VERITA AK4490 DAC chip. These are stereo DAC chips, so Focal could've used one and called it a day. But by using two in a dual-mono configuration, Focal was able to reduce noise and crosstalk compared to using a single chip.
In fact, the Arche uses dual-mono balanced circuitry throughout. There are dedicated Class A amplifiers for both the left and right channel for potent sound with well-defined stereo imaging. 
The ins and outs
Focal designed the Arche to get the best from all your music sources. The back-panel offers digital and analog inputs, including optical and coaxial digital, and even a USB Type B input. That means you can connect everything from disc players, streaming audio devices, a computer, and more. 
On the front panel, you'll find a 1/4" unbalanced output and a balanced 4-pin XLR output for headphone listening. On the back, there are unbalanced stereo RCA outputs and balanced stereo XLR outputs. So you can use the Arche as a standalone preamp or DAC with compatible gear. 
Inputs:
- Digital audio inputs: one optical (Toslink) and one coaxial
- USB (Type B) input for connecting a computer
- 1 pair unbalanced RCA inputs
Preamp Outputs:
- 1 pair balanced stereo XLR audio output
- 1 pair of RCA stereo outputs
Headphone outputs:
- 1 balanced 4-pin XLR output
- 1 unbalanced 1/4" headphone jack
File Compatibility:
- Type B USB input supports up to 32-bit/384kHz resolution for PCM; DSD files up to 12.3 MHZ
- Toslink optical digital input supports up to 24-bit/192kHz resolution for PCM-based files
- Digital coaxial input supports up to 24-bit/192kHz resolution for PCM
Specifications
- Maximum power: 2 x 1W @ 1kHz under 32Ω
- Frequency response: 10Hz to 100kHz
- Total harmonic distortion (THD): <0.001%
- Signal-to-noise ratio: <116dB @ 32Ω (Class A)
- Power supply: 85 to 265 Vac/47 - 63Hz
- Dimensions (H x L x D): 12.64" x 7.87" x 11.69"
- Weight: 10.25 lbs.
- Audio inputs

- Balanced analog RCA
- Digital S/PDIF coaxial (RCA) maximum sampling frequency: 192kHZ
- Maximum resolution: 24-bit
- Optical digital (TosLink) maximum sampling frequency: 192kHz
- Maximum resolution: 24-bit
- Digital USB standard: USB 2.0/USB3.0

- Audio outputs

- Balanced analog 3-point XLR
- Unbalanced analog RCA
choosing a selection results in a full page refresh