AudioQuest Dragonfly Cobalt USB DAC/Headphone Amplifier
Sale
Sale
Original price
$ 349.95
-
Original price
$ 349.95
AudioQuest Dragonfly Cobalt USB DAC/Headphone Amplifier
The DragonFly Cobalt is the all new member of the Audioquest family of portable USB DAC/headphone amps (after it's award-winning predecessors: the Red and the Black). Representing a total redesign and update, Cobalt brings better performance than ever before in one of the smallest form factors of any DAC on the market. The Cobalt combats the noise associated with digital files to preserve musical details, particularly when it comes to high-res audio. Connect to your Mac, PC, iOS or Android device, and you will experience a dramatic improvement in sound quality over the built-in audio boards. 
AudioQuest's fastest, best-sounding DragonFly
AudioQuest loaded the Cobalt with a brand new high-performance USB microcontroller that increases processing speed by 33% (over the DragonFly Red and Black). Faster processing means less extra noise, and ultimately less distortion. 
This chip also reduces power consumption. That's important if you're listening on the go, because the DragonFly draws its power from your connected mobile device or computer. So you can enjoy the upgraded sound without sucking your phone or laptop's battery dry. 
A better internal DAC
AudioQuest also replaced the DAC found in previous DragonFly models with an improved 32-bit ESS Sabre ES9038Q2M processor. This high-performance DAC chip features slow minimum-phase filtering for AudioQuest's most nuanced, dynamic sound yet. And it is one reason why this compact DAC/amp can perform at the level of much larger components.
The DragonFly Cobalt also features the same headphone amp as the DragonFly Red, which I've found gives even hard-to-drive headphones plenty of volume and punch. (I've even driven some super-sized, power-hungry planar magnetic over-ears with that built-in amp.)  And the 64-bit digital volume control offers super-precise sound level adjustment with no loss of detail.
Enjoy high-res USB audio
The DragonFly Cobalt is designed make everything you listen to sound better. So even the compressed audio you get from MP3s, Spotify®, Apple Music®, or YouTube videos will get a sonic boost. But if you have a high-resolution music collection, or stream lossless music from Qobuz or TIDAL, you can really hear what the Cobalt can do.
This DAC will decode high-resolution music files up to 24-bit/96kHz resolution, which is better than CD quality, and it also offers full MQA support. There's little to no fuss as you switch from one file type to the next or one music service to another. The dragonfly-shaped logo on the DAC's exterior even lights up and changes color to verify the resolution of the incoming signal.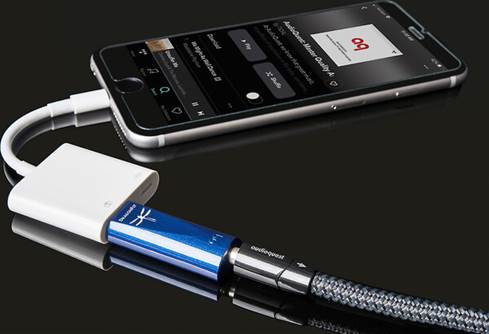 The DragonFly Cobalt connects to your iPhone via a Lightning-to-USB connector (sold separately).
For headphones or speakers
Plug your headphones directly into the DragonFly's stereo 3.5mm mini audio output jack for high-energy private listening. You can also use an optional stereo mini-to-mini cable or mini-to-RCA adapter to feed a line-level signal to a pair of powered speakers, power amplifier, or receiver. 
Compatible with most phones and computers
The DragonFly Cobalt can plug directly into the USB port on a computer, but there are several ways to connect to other devices. AudioQuest includes a DragonTail USB-C adapter that will connect to the USB-C port on a newer computer, phone, or tablet.
Product highlights:
- New, more advanced ESS ES9038Q2M DAC chip with a minimum-phase slow roll-off filter for more natural sound.
- Compatible with Windows® and Mac® computers
- Compatible with iPhone® and iPad®

requires Lightning-to-USB adapter (not included)

- Compatible with some Android™ devices

DragonTail USB-C adapter included

- High-performance ESS Sabre 9601 headphone amplifier
- Powered by USB connection — no need for external power supply
- Asynchronous USB data transfer using Wavelength Audio, ltd.'s Streamlength® protocol for reduced timing jitter and better sound
- Offers rendering for MQA (Master Quality Authenticated) audio files
- 3.5mm stereo minijack provides:

Headphone output (minimum recommended headphone impedance 16 ohms and higher)

Variable line-level output for driving powered speakers or power amp

Fixed line-level output for connecting to a preamp or receiver

- 64-step, bit-perfect digital volume control (operated via your computer or mobile device)
- Supported sample rates: PCM up to 96kHz native resolution

(sample rates above 96kHz will play but are down-converted by your computer or mobile device's playback software)

- Incoming sample rate color-coded LED indicator for 44.1kHz, 48kHz, 88.2kHz, and 96kHz sampling rates
- Input bit depth: 16 bits, 24 bits
- Output voltage: 2.1 Vrms
- Durable metal construction with blue hardshell finish
- Sorage pouch
- Supported operating systems:

Windows® 7-10

Apple OS X® (version 10.6.8 or later)

Apple iOS® (5 and newer)

Android™ 4.1 and later

- Dimensions: 2.26" x 0.73" x 0.47"
- Warranty: 1 year
What's in the box:
- USB DAC / PreAmp / Headphone Amp (Cobalt Blue)
- Protective cap (installed)
- 6" "Dragon Tail" cable (USB-C male on one end and Type A USB female on other end)
- Stitched leatherette storage pouch
- Flight Manual (Instructions)
- Qobuz promotional offer
- Tidal promotional offer
- Warranty/Registration card
It starts with a rewrite of asynchronous algorithms, a 33% increase to processor speed, and an upgraded DAC chip (ES9038Q2M), all while reducing power consumption, wrapping in power filtering, and still reducing overall size by 10%. While that sound more like repairs needed on the Millennium Falcon after making another unadvised shortcut through an asteroid field, it actually all adds up to the hottest new piece of tech in the mobile and streaming music world.
A 2.1v amplifier is strong enough to push nearly any wired headphones on the market (even Audeze LCD-3s!).  Plus, you can also use it as a preamp for a traditional stereo setup, car audio application, and more. This is easily one of our top picks in the portable category for best audiophile DAC on the market. Check out the video below for more.
The AudioQuest DragonFly Cobalt is the new flagship model in the DragonFly series of compact USB DACs. The DragonFly is the size of a typical USB flash drive, and has an advanced digital-to-analog chip, and a high quality headphone amplifier. Its USB Type A input simply plugs into your desktop or laptop computer (Windows or Mac), or, with an adapter, into your Apple or Android smartphone or tablet. On the other end is a 3.5mm minijack output for your headphones, powered speakers, or your home's stereo system. The DragonFly Cobalt bypasses the inferior quality sound card in your device to deliver beautiful, clean audio to your ears. The package includes a 6" DragonTail, a female USB-A to male USB-C adapter, and a stitched leatherette storage pouch.
Digital-to-Analog Converter: The DragonFly Cobalt has a new, more advanced 32-bit ESS Sabre 9038 DAC chip (ES9038Q2M). Natively, the DragonFly Cobalt is capable of decoding 24-bit/96kHz data. Files with higher sample rates will need to be resampled to a compatible resolution. The DAC has a minimum-phase slow roll-off filter which delivers a natural, warm sound with great detail. DragonFly Cobalt is designed to play any file type, no matter the resolution, from your smartphone, tablet, or computer. This includes CD audio, MP3 and AAC compressed music files, CDs ripped as Apple Lossless or FLAC files, plus streaming audio from free or premium services such as Tidal, Qobuz, or Spotify.
Headphone Amplifier: Like the DragonFly Red, the DragonFly Cobalt uses the ESS Sabre 9601 headphone amplifier with a high-level output of 2.1V @ 10k ohms or higher. It will drive a wide range of headphones, including inefficient, power-hungry models. Its 64-bit, bit-perfect digital volume control provides excellent signal-to-noise ratio, a wide dynamic range, and high fidelity. When DragonFly Cobalt is connected to your computer or mobile device, the source unit's volume control will perfectly adjust the DragonFly's volume.
Microcontroller: DragonFly Cobalt uses an efficient Microchip PIC32MX274 USB microcontroller that draws less current, and increases processing speed by 33%. Wavelength Audio's monoClock technology, with a single ultra-low-jitter clock to run the headphone amplifier and all of the microcontroller functions. StreamLength (also from Wavelength Audio) asynchronous USB code improves the delivery of the audio samples to the DAC chip to give you reliable connectivity between the DAC and the host device for uncompromised audio playback.
Noise Filtering: The DragonFly Cobalt utilizes improved power-supply filtering to eliminate the effects of noise from cellular, Bluetooth, and Wi-Fi signals in the air.
LED Indicator: The LED indicator behind the DragonFly icon shows the resolution of the incoming signal - 44.1kHz (green), 48kHz (blue), 88.2kHz (yellow), 96kHz (light blue), and MQA (purple). Red indicates standby mode.
Software Upgradable: The DragonFly Cobalt is upgradeable through a free Desktop Device Manager application. As new developments arise in music player applications, streaming protocols, or other associated software, you can upgrade your DragonFly Cobalt to incorporate those updates to your device.