SVS PB-1000 Pro 12" Ported Subwoofer (Black Ash)
Sale
Sale
Original price
$ 799.00
-
Original price
$ 799.00
Price Match Guarantee
SVS PB-1000 Pro 12" Powered Subwoofer with Digital Processing and Parametric Equalization Controls (Black Ash)
SVS is known for their high-performance, value-packed subwoofers, and they're bringing the bass yet again. The new SVS 1000 Pro Series features technology breakthroughs from the 16-Ultra Series, 4000 Series, 3000 Series and 2000 Pro Series.  The PB-1000 Pro features a reimagined 12-inch high-excursion driver with dual ferrite motor assembly. Capable of moving massive amounts of air with crisp precision, taking control of a room with heart-pounding, tonally accurate low end for more immersive listening experiences. More people than ever can now enjoy room-shaking bass below the threshold of human hearing with unerring accuracy and control. Deep bass extension down to 20Hz and massive output with stunning musicality will delight both audiophiles and home theater fans.
Product Highlights:
12-inch long-throw driver with high-precision tuned overhung motor configuration.
Frequency response: 17-260 Hz (±3 dB)
325 watts RMS of continuous power, 820 watts peak power
Advanced 50 MHz DSP processor with 56-bit filtering maintains control over the subwoofer at all drive levels for refined, low-distortion sound
Smartphone app allows Bluetooth to wirelessly customize your settings with a smartphone app (Android™ 4.42 or higher; iPhone® 5 or higher)
Dual bass-reflex (ported) cabinet design
Rear-mounted volume, crossover, phase, and power controls with LED display bar
Push-button controls make it easy to adjust your bass
Continuously variable low-pass 50-160 Hz crossover with a disable (LFE) setting for connecting to an A/V receiver
Phase control (0-180°)
Main power on/off switch plus auto standby/on mode
Line-level/LFE RCA inputs
Speaker-level inputs
RCA line outputs (fixed 80 Hz, 12dB/octave high-pass)
6' detachable power cord
Premium black ash woodgrain vinyl finish
Protective mesh grille is made of non-resonant ABS fabric
Dimensions (W x H x D): 15"W x 18.9"H x 20"D (with grille)
Dimensions (W x H x D): 15"W x 18.9"H x 19.2"D (without grille)
Weight: 46. lbs.
Warranty: 5 years
Our 30-day money-back guarantee
MFR # PB-1000 PRO - BLACK ASH
SVS STA-325D Sledge Amplifier: The PB-1000 Pro subwoofer utilizes reference amplifier technology borrowed from the flagship SVS 16-Ultra Series. The innovative design combines the efficiency of a Class D amplifier with the ability to generate lots of current through the fully discrete MOSFETs for outstanding subwoofer performance at all volume levels, in any room, for seamless integration with any home theater or stereo speaker system. The PB-1000 Pro features a 325W (RMS) / 825 (Peak) Sledge STA-325D amplifier with fully discrete MOSFET output. Harnessing the immense power while ensuring tonal accuracy and driver control for more convincing bass effects is a 50MHz Analog Devices Audio DSP with frequency response precisely tuned for the PB-1000 Pro.
High Current Output: High current output from fully discrete MOSFETs with the efficiency of Class D amplification allows the Sledge STA-325D amplifier to generate massive amounts of current enabling immense output with surgical precision.
Sophisticated DSP: A sophisticated 50Mhz High Resolution Analog Devices Audio DSP an advanced digital processor that maintains pristine sound quality through advanced in-room tuning, powerful DSP controls, custom presets, and more.
Optimized Frequency Curves: Optimized frequency response curves for the sealed cabinet of the PB-1000 Pro allow the subwoofer to take control of a room and pressurize it with accurate, heart-pounding, acoustically tuned bass.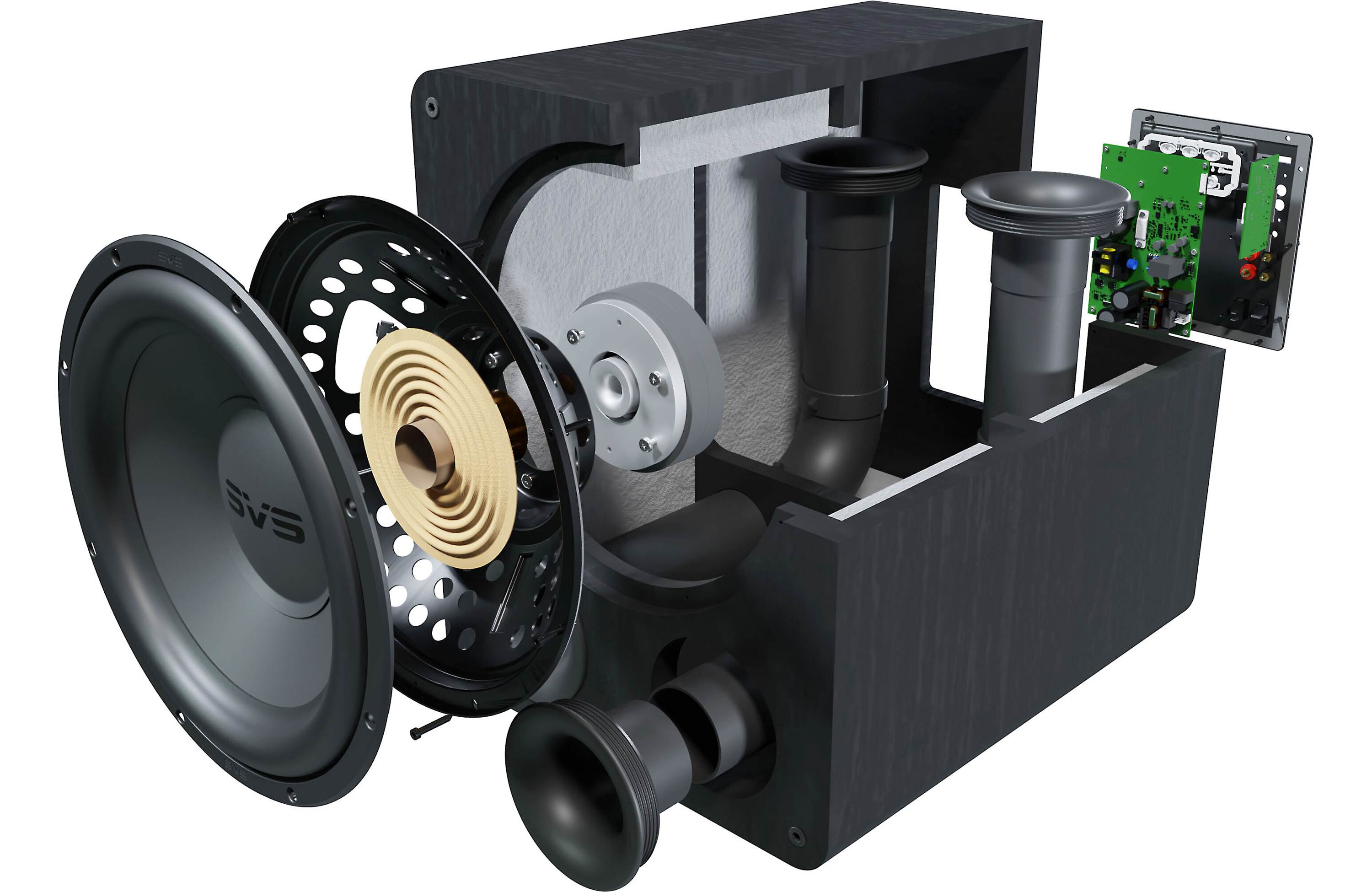 Acoustically Optimized Bass Reflex Cabinet: The SVS PB-1000 Pro utilizes a front-firing dual port bass reflex enclosure design that enables greater output with much lower distortion compared to the original 1000 Series model. The acoustically optimized ported cabinet features extra-thick MDF front baffle and rigid internal bracing for a resonance-free environment.
Dual Ports: The front-firing dual port design allows for maximum airflow without distortion, enhancing the quantity and quality of bass output at all drive levels.
Acoustic Insulation: Acoustic insulation eliminates all coloration from the cabinet, even when the deepest low frequencies are played at reference volume.
Reinforced Bracing: The reinforced internal bracing provides resonance free performance at highest volume levels.
Iso-Elastomer Feet: The custom iso-elastomer screw-in feet help reduce noise artifacts and improve stability.
Non-Resonant Grille: The protective non-resonant extra-thick ABS grille frame with fabric mesh cover shield driver to prevent damage while ensuring longevity.
Rear-Panel Intelligent Control Interface (ICI): The PB-1000 Pro's rear-panel Intelligent Control Interface (ICI) provides control options for the subwoofer's most critical functions - including level control, low pass filter control, and phase control.
Level Control: Use the level control to fine tune the overall output level of the PB-1000 Pro to best match the rest of your speaker system and room. The level control ranges from -60dB to 0dB in 1dB steps.
Low Pass Filter: Use the variable low pass filter  to ensure smooth sonic transitions and seamless blending between the PB-1000 Pro and your main speakers. You can adjust the frequency (30-200Hz in 1Hz/steps) and slope (6, 12, 18, or 24dB) of the low pass filter. The slope can only be configured from the SVS Subwoofer DSP App.
Phase Switch: The phase switch helps to align the powered subwoofer's output timing with your main speakers or additional powered subwoofers. The Phase can be set from 0 degrees to 180 degrees in 1 degree steps.
SVS Subwoofer DSP App: The SVS subwoofer smartphone app is a convenient to control and tune the PB-1000 Pro powered sub from your compatible smartphone or tablet device. You'll be able to control the same functions located on the rear-panel of the sub (such as Level, Low Pass Filter, & Phase); as well more complex DSP functions (like 3-Band EQ, Port Tuning, Polarity, & Room Gain). You can also program and store 3 presets for different content.
3-Band EQ: A 3-band parametric EQ  allows precise adjustments for boost or cut (-12 to 6.0dB in 0.1dB/steps), Q-factor (0.2-10.0 in 0.1/steps), and frequency (20-200Hz in 1Hz/steps) so you can customize performance by eliminating peaks, nulls and other room issues.
Port Tuning: Variable port tuning modes with customized frequency response curves for "Standard" and "Sealed" allow tuning for maximum output or deep bass extension and transient speed. In "Standard" mode, all ports are open for the highest maximum output. In "Sealed" mode, all ports are plugged for best transient response (foam port plugs are available upon request by emailing custservice@svsound.com).
Polarity: In some cases, reversing polarity solves dips or humps at the crossover frequency between a subwoofer and speaker and can be used to fix bass nulls or overly boomy spots in the listening area. The polarity can be set to Positive (+) or Negative (-).
Room Gain: Room Gain helps to fix bloated sounding bass by optimizing low frequency output and extension when too much sound wave density is being created by a small room. You can adjust the Room Gain's frequency (25, 31, or 40Hz) and Slope (6 or 12dB).
Custom Presets: You can create and save 3 presets (Music, Movie, & Custom) for one-touch tuning with optimized settings based on listening preferences for movies, music, and more - all accessible from a single touch on the app.
Line-Level & Speaker-Level Inputs: Comprehensive and flexible connectivity with line-level and speaker-level options allow for easy set-up and integration into your home theater or stereo system.
LFE/RCA Inputs: These unbalanced RCA inputs are used for line-level connections between your receiver and the powered sub. For a mono-LFE connection to a home theater receiver, use the R/LFE input. For stereo receivers, use both the L/R inputs on the sub. When only the R/LFE input is used, your AV receiver or preamplifier will perform the bass management and send the powered sub a pre-filtered mono signal. When both stereo L/R inputs are used, you'll have the ability to adjust the powered sub's on-board low pass filter.
Speaker Inputs: This connection method is for 2-channel stereo applications where the integrated amplifier or stereo receiver only has speaker-level outputs. The powered sub's speaker inputs consist of 5-way binding posts that will accept bare wire (up to 10AWG), pin-connectors, spade-connectors, and banana plugs (dual or single).
RCA Outputs: These unbalanced RCA outputs are used to daisy-chain another PB-1000 Pro for two powered subs in your system. You'll need to configure the subwoofer audio settings on each powered sub.
Optional Wireless Connectivity: If you want to add wireless connectivity via the SVS SoundPath Wireless Audio Adapter (sold separately), the PB-1000 Pro conveniently includes a rear-panel USB-A input to easily power the receiver of the SoundPath Wireless Audio Adapter. The optional SVS SoundPath Wireless Audio Adapter gives you to ability to add wireless connectivity between the SVS powered subwoofer and your AV receiver or preamplifier. It transmits a pristine audio signal up to 65' at CD-quality (16-bit/48KHz) with ultra-low latency. The SVS SoundPath Wireless Audio Adapter consists of a wireless audio transmitter and receiver.
Transmitter: The transmitter is equipped with a 3.5mm audio input and connects to your AV receiver or preamplifier via the included 20" mono minijack-to-RCA cable or 20" stereo minijack-to-RCA cable.
Receiver: The receiver is equipped with a 3.5mm audio input and connects to your powered subwoofer or powered speakers using the included 20" mono minijack-to-RCA cable or 20" stereo minijack-to-RCA cable.
Placement Options: The location of the SVS PB-1000 Pro in your listening environment can affect its performance. If possible, start with corner placement on the same wall as the front speakers, or anywhere along the front stage in between or outside of your main speakers.
Corner Placement: Corner placement offers huge impact and reduces the potential to encounter bass nulls, or "dead spots". If "boominess" occurs, you can try pulling it away from the wall and using the DSP tuning controls to smooth performance.
Front Placement: Front placement, in between or to the side of the front channel speakers, often results in the best blending with the main speakers and center channel and minimizes localization effects.
Side Placement: Side wall placement is less frequently used, but can be an effective subwoofer location for excellent accuracy and output.