MartinLogan Motion FX Surround Speaker - Each (Black)
$ 44999

$ 449.99

Save $ 49.01
---
MartinLogan Motion FX Surround Speaker - Each
Inspired by ultra-high-end Electrostatic loudspeakers, MartinLogan Motion FX features dual Folded Motion tweeters in a wide dispersion configuration, powerful bass, and folded reflex port technology in a compact, affordable package. Key to Motion FX's performance is the lightning fast response of the tweeter's light-weight diaphragm combined with a large surface area (8-times that of a typical one-inch dome tweeter) which together achieve a smooth, refined sound with stunning dynamic range and jaw-dropping clarity.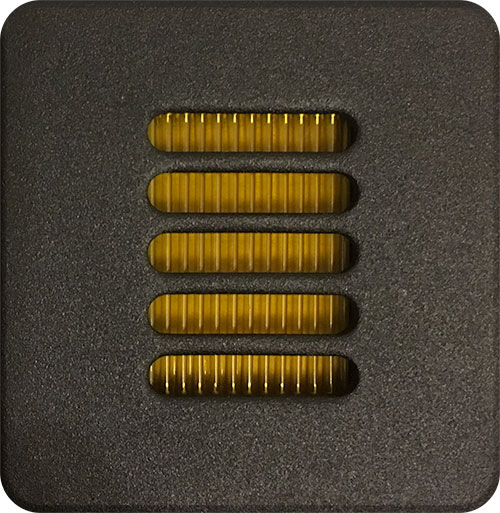 MartinLogan's advanced Folded Motion tweeter produces clear, open sound.
Features:
Dual Folded Motion™ tweeters
Wide dispersion
5.25-inch paper cone woofer doped for stability and damping. Rigid dust cap.
Folded bass reflex port
Precision Vojtko™ crossover with custom air core coil and low DCR steel laminate inductors; polyester film and low DF electrolytic capacitors
On-wall installation in corner, flat on wall, or angled on wall
Bookshelf installation
Convenient push-style binding posts easily adapt to accept banana plugs.
Frequency Response 74–25,000 Hz ± 3dB
Sensitivity 91 dB/2.83 volts/meter
Impedance 4 Ohms. Compatible with 4, 6, or 8 Ohm rated amplifiers.
Crossover Frequency 4500 Hz
High Frequency Driver Two 1 x 1.4" (2.6 x 3.6 cm) Folded Motion Transducer with 5.25 x 1.75" (13.3 x 4.4 cm) diaphragm.
Mid/Low Freq. Drivers 5.25" (13.3 cm) paper cone. Folded Bass Reflex Port
Recommended Amp 20–160 watts
Approximate Dimensions: Height: 11.1" x Width: 12" x Depth: 6"
Approximate Weight: 9.5 lbs, Shipping: 12 lbs
Warranty: 5 Year Limited Warranty
What's in the box:
Surround loudspeaker
2 Wall-mount brackets
Shoulder-bolt
2 Rubber bumpers
User's Manual (En/Fr) Installation template
Product Registration Card
Folded Motion tweeter for detailed sound
MartinLogan's innovative Folded Motion tweeter uses a pleated diaphragm that works like an accordion by "squeezing" air to create sound. It requires about 90% less excursion than a typical 1" dome tweeter, resulting in quicker response time and much lower distortion. The Motion FX has two of these tweeters, aimed away from each other, to disperse ambient sound — effects, music, voices — so that you're fully immersed in whatever scene is playing out on-screen.
Versatile mounting options
When it comes to surround speakers, placement is important. The Motion FX offers multiple mounting options to suit a variety of rooms and configurations. Conventional wall-mounting is easy with the supplied hardware. Plus, the back sides are angled at 45 degrees to allow for wall/wall corner mounting or wall/ceiling mounting.
Folded Motion Tweeter: Two 1" x 1.4" Folded Motion tweeters help give the Motion FX surround loudspeaker its natural, realistic high frequency sound. Lightning fast transient response, combined with a large surface area (8x that of a typical 1" dome tweeter) creates clear, dynamic, and precise sound. The Folded Motion tweeter works by moving air (which creates sound) perpendicular to the folded ridges of the diaphragm, similar to how an accordion works. This extremely low mass diaphragm "squeezes" air and requires almost 90% less excursion than the typical 1" dome tweeter, which drastically minimizes distortion while providing a lightning fast response time. The increased surface area also provides a wide, yet controlled sound dispersion to create a realistic and carefully etched sound stage. The two 1" x 1.4" Folded Motion tweeters have a combined dispersion area of 160° x 80°.
5.25" Paper Cone Woofer: The MartinLogan Motion FX surround loudspeaker features a 5.25" paper cone woofer with a cast aluminum basket housed in a non-resonant asymmetrical chamber. The paper cone woofer uses a rigid structured dust cap and butyl rubber surround to reduce cone break-up and distortion. This 5.25" cone woofer provides rich, detailed midrange/midbass.
Precision Vojtko Crossover: To seamlessly blend the audio output from the dual Folded Motion tweeters and one 5.25" woofers, the Motion FX loudspeaker features a precision Vojtko crossover (4500Hz) utilizing custom air core coil and low DCR steel laminate inductors, polyester film capacitors in series, and low DF electrolytic capacitors in parallel.
Folded Reflex Port Technology: MartinLogan engineers were faced with a daunting task, create a compact speaker with low-end bass reproduction found in speakers much larger. After a myriad of prototypes, they created the Folded Motion Cascading Bass Port. This brilliant solution allows a long tuned port, which is folded over itself (think of a trombone's tuning arm) to be compacted and squeezed into the Motion FX loudspeaker. The result is amazingly detailed low bass that can play at high volumes with minimum distortion; all thanks to the elegantly simple cascading fold that slows down and controls the air motion of the bass waves. The Folded Motion Cascading Bass Port exits the rear-panel of the speaker cabinet.
Spring-Post Connectors: The MartinLogan Motion FX speaker features two spring-post connectors to attach your speaker wire. The spring-posts will accept bare wire (16- to 10-gauge), pin-connectors, and banana plugs (single only). The rubber caps on the spring-post connectors must be removed to use banana plugs.
Break-in Period: Allow approximately 72 hours of break-in at 90 dB (moderate listening levels) before any critical listening.
choosing a selection results in a full page refresh