JVC KW-V950BW CD/DVD MultiMedia Receiver
Sold out
Original price
$ 445.00
-
Original price
$ 445.00
class="prod-title">JVC KW-V950BW CD/DVD MultiMedia Receiver
JVC's KW-V950BW DVD receiver includes lots of wireless options to get your smartphone connected. Built-in wireless Apple CarPlay™, Android Auto™, Bluetooth®, and screen mirroring for Android phones lets you enjoy the music, navigation, and communication goodness from its 6.8" touchscreen — without having a phone in your hands while you drive. This slick receiver also includes tons of music options and audio/video connectivity for adding additional screens and cameras. And JVC backs up this receiver with a 2-year warranty.
Product highlights
General Features
- DVD/CD receiver with AM/FM tuner
- 6.8" Clear Resistive touchscreen display (blue button illumination)
- Waze-ready with Apple CarPlay or Android Auto
- customizable display background and digital angle adjustment for better in-dash visibility
- plays high-res FLAC files (up to 24-bit/192 kHz) on USB drives
- fits double-DIN dash openings
Bluetooth Features
- hands-free calling and audio streaming with dual phone connection
- automatic iPhone and Android pairing using the USB connection
- JVC Streaming DJ feature allows music streaming and control from up to five paired smartphones
- control the stereo using JVC's free Remote S app
Smartphone Features
- wireless and wired Apple CarPlay compatible

- works with Siri for voice commands
- works with Apple HomeKit to link and control smart home devices like lights and thermostats

- wireless and wired Android Auto compatible

- works with Google Assistant for voice control and smart home device commands

- music control and charging of Apple and select Android devices using the USB connections
- Pandora and Spotify control with iPhone and Android
- wireless screen mirroring from select Android phones
Audio/Video Features
- plays CDs, DVDs, and USB memory devices
- sound-sculpting tools and digital processing

- 13-band equalizer with digital time alignment
- K2 improves the digital sound for all music sources
- Sound Lift compensates for low speaker positions
- Volume Link EQ boosts specific frequencies to compensate for road noise
- subwoofer level, phase, and low-pass crossover controls
Expandability
- compatible with SiriusXM satellite radio tuner
- inputs: two rear USB inputs, rear A/V input (mini), two camera inputs (plus A/V input can be used for 3rd cam)
- outputs: rear A/V output (composite video), 6-channel preamp outputs (5-volt front, rear, subwoofer)
Other Info
- built-in internal amp (22 watts RMS/50 peak x 4 channels)
- compatible with most factory steering wheel audio controls (adapter required)
- works with iDataLink Maestro module

- retains factory features in a wide selection of vehicles
- displays engine performance and other vehicle data on touchscreen

- warranty: 2 years
Tuck your phone away
Get the awesome convenience of Android Auto or Apple CarPlay without having to plug in. This JVC multimedia receiver features a built-in Wi-Fi connection, so all you have to do is get in and go. Your phone can stay put. The receiver and your smartphone link right up and you're ready to roll with all the voice-control wonderfulness that Android Auto and Apple CarPlay bring to driving. (Find out more at www.android.com/auto and www.apple.com/ios/carplay.) In addition, the KW-V950BW offers wireless screen mirroring for select Android phones, which lets you select apps directly from the JVC touchscreen.
And when your phone needs some juice, plug it in, and you'll still get access to all your navigation, phone calls, weather, text messages, and all your music through simple controls and voice commands you're familiar with while your battery charges.
(Please check the Details tab to ensure your Android device works with wireless Android Auto.)
More wireless fun with Bluetooth
Since yours is probably not the only phone used in your vehicle, the KW-V950BW enables you to pair two Bluetooth-equipped phones and quickly switch between them for hands-free calling. And when you're streaming audio, JVC's Streaming DJ feature lets you pair five phones so everybody can pick their tunes for the ultimate road trip playlist. You can also control this stereo directly from your iPhone® or Android™ phone using JVC's free Remote S app.
Even more music options
This receiver's controls let you directly control Pandora and Spotify from your iPhone or Android. If you're looking for radio stations that won't fade away when you hit the highway, add a SiriusXM tuner to this JVC to enjoy satellite radio's deep programming from coast to coast. The KW-V950BW also includes a sensitive AM/FM tuner to catch all your local stations too. Got a high-res music library? You'll be stoked that the KW-V950BW supports high-res file playback including FLAC files on a USB drive. But don't worry, you can still play CDs and DVDs, too.
Make your music even sweeter
This receiver also offers an impressive array of sound-sculpting controls, including a 13-band graphic equalizer and digital time alignment. Since much of today's music uses compression which can sometimes muddle the sound, so JVC's K2 technology helps bring back the depth and detail for all your digital music sources. If your car speakers are located down low in the doors, this receiver also offers Sound Lift, which adjusts your music's frequencies to virtually "raise" your speakers for better, more natural imaging. The KW-V950BW also includes three pairs of 5-volt RCA preamp outputs that provide an ultra-clean signal when it's time to add amplifiers to your system.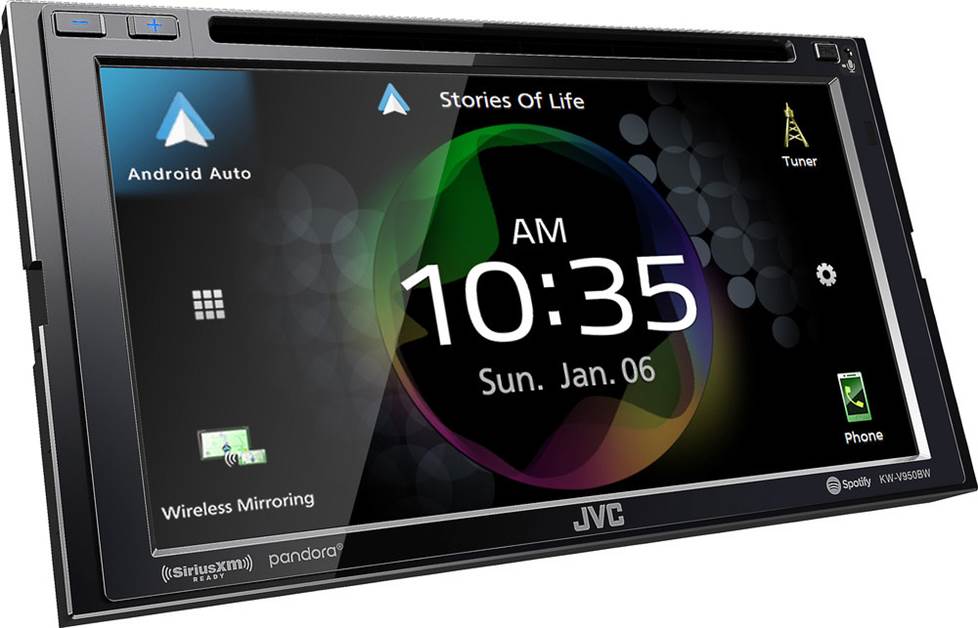 JVC's simple display layout lets you quickly get to the info you want.
Versatile touchscreen display
This JVC's big 6.8" display shows control, music, and navigation content in bright, clear detail. JVC includes a customizable layout and an electronic angle adjustment, providing better visibility depending on the radio's dash location in your vehicle. You can liven up the display with this receiver's Live Wallpaper, which synchronizes the display's background and color with your music. When you're on the road, you can entertain your passengers by sending a movie from the receiver to a rear-seat screen, and the dual zone capability means you can still listen to your music or podcast up front. This receiver allows you to switch the A/V input over to camera mode, giving you inputs for a backup camera, front-dash camera, and even a side-view camera.