Open Box (Like New) - Sennheiser RS 175 Surround Sound Wireless Headphone System
Sold out
Original price
$ 249.95
-
Original price
$ 249.95
Sennheiser RS 175
Wireless TV Headphones with Transmitter
What is Open Box?
Open Box items are products that have been returned to us by customers, or were on display in our retail store. In most cases these items are in as-new condition. These items are fully operational to manufacturer specifications.


Great way to save on the latest technology!
Availability is limited to stock on hand.
Includes ALL Original Accessories and Original Manufacturer Box
Open Box items are sold on a first-come first-served basis.
Our 30 Day money back guarantee
For more details please don't hesitate to give us a call at 1.888.707.3976
The Sennheiser RS 175 Digital Wireless headphone system consists of a pair of wireless headphones (HDR 175) and a radio frequency (RF) transmitter (TR 175). The system is designed to enhance the sound of your TV or your home audio source, and to give you the freedom to walk around your home with the headphones on. Hear crystal clear dialogue and special effects — without disturbing family members. The Sennheiser RS 175 headphone system puts you in the middle of the on-screen action with a choice of two virtual surround sound modes. Connect the included wireless transmitter to your TV or receiver's optical digital or analog output, put the headphones on, and listen to your show, movie, or game. No one else needs to hear a thing.
Product Highlights:
Over-the-ear, closed-back design helps keep out external noise
Transmitter Base & Charging Station
Included wireless transmitter delivers high-quality audio to the headphones
Transmitter features an optical digital (Toslink) input and 3.5mm stereo minijack input for connecting from your TV or audio system (cables included)
Wireless range: up to 328 feet (line of sight)
Selectable virtual surround sound modes add depth and atmosphere to movies and shows
Dynamic bass boost button increases low-frequency response
Multi-receiver mode enables two people to listen to the same source (requires additional compatible headset)
Transmitter also serves as a docking station to recharge the headphones
Battery life: up to 18 hours with a full charge using the included batteries
Volume controls, virtual surround sound, and dynamic bass boost button on headphones
Includes 2 "AAA" NiMH rechargeable batteries for the headphones (standard "AAA" may also be used)
Includes multi-country AC adapter for powering the transmitter
Audio Input: 1 x 3.5 mm stereo, 1 x optical digital
59" optical digital cable included
78" stereo mini cable included
Frequency response: 17-22,000 Hz
Headset weight: 10.9 oz. (with batteries)
Warranty: 2 years
Our 30-day money-back guarantee
MFR # 508676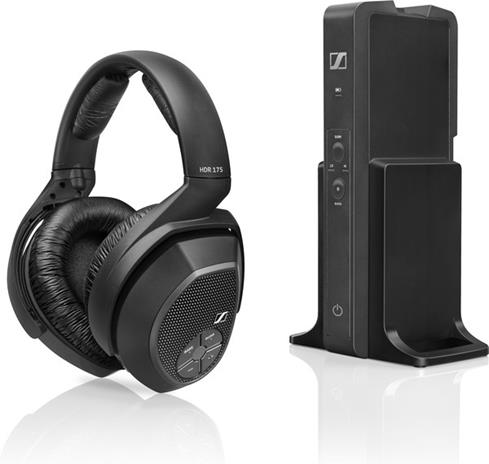 Wireless Headphones: The HDR 175's wireless headphones feature a circumaural headphones (around-the-ear), closed design to significantly reduce background noise. The soft-padded ear cups and headband provide hours of listening comfort. The headphones have controls on the right ear cup: power on/off, volume up, volume down, surround (to activate Virtual Surround Sound), and bass (to activate the Dynamic Bass Boost feature). With the batteries installed, the Sennheiser RS 175 headphones weigh approximately 10.9 ounces.
TR 175 Transmitter: The transmitter connects to your television's or audio system's audio output via the included 3.5mm cable or optical digital cable (accepts 2ch PCM audio only). You can switch between the two inputs with a provided toggle switch. The audio is transmitted on the 2.4 GHz band (2.40 to 2.48 GHz) with 8-FSK Digital modulation. The transmitter can send signals to up to 2 pairs of headphones at the same time. The extended transmission range is approximately 328 feet (100 meters) without obstructions. (Typical performance with obstructions will be somewhat less.) The transmitter is powered by a 9-volt DC power supply/AC adapter. Adapter plugs for the US, Europe, UK, and Australia are provided, allowing for use in other countries. The transmitter doubles as a convenient charging cradle for the headphones. Transmitter dimensions: 4.96"W x 9.264"H x 3.96"D.
Rechargeable Batteries: The headphones are powered by the two included "AAA" rechargeable NiMH batteries (1.2V, 820mAh). The batteries fully charge in approximately 8.5 hours, when placed on the top of the transmitter. Battery life is approximately 18 hours of use. Standard, non-rechargeable "AAA" batteries may be used in the headphones, but the headphones must not be placed on the charging cradle.
Auto Power Off: If there is no signal from the transmitter for more than 5 minutes, the headphones automatically switch to standby mode. If the headphones are outside the transmission range or switched to off for more than 5 minutes, the transmitter automatically switches to standby mode.
Dynamic Bass Boost: The RS 175's Dynamic Bass Boost feature raises the intensity of the bass when activated. You can turn the Bass Boost on or off by pressing the Bass button on the transmitter, or on the headphones.
Virtual Surround Sound: The headphone system offers two virtual surround sound modes (Hi/Lo) that simulate the presence of external speakers. Special signal processing produces a spatial sound quality, with differences in intensity between the Hi and Lo modes. You can engage Virtual Surround Sound from the transmitter or the headphones.
What's in the box:
HDR 175 Over-the-ear wireless headphones (black)
TR 175 transmitter
NT9-3AW AC adapter with attached 68" DC output cord (DC Output: 9V 300mA)
4 AC plug adapters (US / Euro / UK / Australia)
2 "AAA" rechargeable batteries (1.2V 820mAh)
5' Optical digital cable (Tos-Link connectors on each end)
7' Audio cable (3.5mm plugs on each end)
Quick Guide
Safety Guide