Jura S8 Automatic Coffee Machine (Moonlight Silver)
Sale
Sale
Original price
$ 2,899.00
Original price
$ 2,899.00
-
Original price
$ 2,899.00
Original price
$ 2,899.00
Jura S8 Automatic Coffee Machine (Moonlight Silver)
The JURA S8 super-automatic machine is the first of its class, combining the best qualities of JURA's compact machines with the advantages of their more premium models, and reminding us of the wonders of Swiss design.
Features and Performance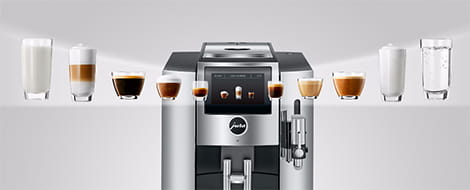 First and foremost of the S8's upgrades is the integrated 4.3" high-resolution color touchscreen display, complete with graphics and animations at every step of preparation. We don't think it's ever been easier to navigate and program a drink as it is on the S8.
Altogether, a full range of 15 specialties are available on the S8, including: ristretto, espresso, coffee, cappuccino, caffè latte, espresso macchiato, and flat white. You can also select a portion of milk foam, a portion of milk, hot water, or lower-temp hot water for green tea, which we think is an excellent and thoughtful addition that rounds out this already amazing machine. In a word, it slays.
JURA has also upgraded the Fine Foam Frother on the S8, eschewing the old dial for a much sturdier switch, which allows you to easily adjust milk density for different drinks before, or during, brewing. A true innovation, the JURA S8 has us swooning.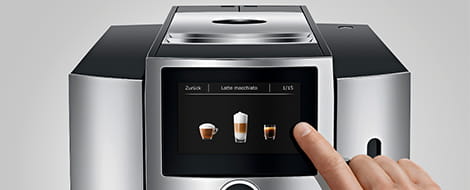 To use the S8, simply touch and hold the desired drink for a few seconds, and you will be treated to a bevy of easily adjustable options and settings. Adjust temperature in three settings, strength in ten, drink volume, and add a special name to complete your custom drink. You can also set your custom drink to brew double the the selected specialty, create a duplicate custom drink to adjust separately, replace or remove a product from the start screen.
The precise, high-speed Aroma G3 grinder, integrated pre-infusion and pulse brewing system, make for delicious drinks; and the machines pre-programmed rinses and maintenance alerts make for a high-functioning machine for years to come.
Why You Should Get It

The JURA S8 borrows some of the most exciting features of JURA's higher-end premium lines and fits them into a compact machine, creating an interesting premium mid-segment among their offerings. The S8 can make 15 specialties, including popular favorites like the Flat white, cappuccino, and latte macchiato, all of which can be customized by temperature, strength, and drink volume. For tea drinkers, the Hot Water for Green Tea option provides hot water at a temperature optimal for green tea.
What's Included
1 x Instruction manual
1 x Perfect Maintenance brochure
1 x Hot water nozzle + clear connector (for frother)
1 x Milk syphoning hose with connector
1 x Aqua test strip
1 x Coffee scoop
1 x Serial # sticker
Full Color Touchscreen
The S8's preeminent feature is its vivid 4.3", full color touchscreen display. With this new technology, the machine eschews buttons and even JURA's rotary switch for even more seamless navigation. The display provides visual prompts for all actions performed by the machine, and allows for drink customization without having to access complex menus.
Programmable One-Touch Brewing
JURA's Intelligent Pre Brew Aroma System pre-infuses coffee grounds prior to brewing using their Pulse Extraction Process, which pulses water in short intervals through the grounds; both of which help to guarantee full saturation and clarity of flavor. Coffee strength and temperature can be adjusted across ten and three settings respectively, for a wide degree of customization.
Intelligent Water System (I.W.S.®)
The Intelligent Water System makes use of RFID technology to automatically detect when the machine's 1.8 L reservoir has been fitted with a CLEARYL Smart water filter, which protects against limescale, chlorine, and heavy metals to preserve the flavor of your coffee, extend the lifespan of your machine, and cut down on the need to descale.
Aroma G3 Grinder
JURA's Aroma G3 grinder ensures quiet, even, and super fast grinding. The grinder can be adjusted to one of seven fineness settings to affect the overall extraction time, and features a refined burr set with cutting angles that have been perfected for more even grinding and higher efficiency. An integrated bypass doser allows for pre-ground coffee brewing, too.